Bernie Taupin: True American

Bernie Taupin is widely known as one half of one of the most successful songwriting partnerships of all time. But at the opening of his latest exhibition at the Chase Contemporary on Wednesday evening, he preferred to be thought of simply as a True American.
I've been following Taupin's artistic trajectory since his exhibition at the Time Warner Center in 2006 when his paintings reminded one of Mark Rothko's minimalism and variations of abstract expressionism. While Taupin's style may have changed, the conviction has not.
Over the years he's clearly developed as an artist with as distinct a point of view as any that might be found at the Museum of Modern Art. Much of his latest work has become more of an assemblage and defined by the juxtaposition of instruments and the American flag; an obvious theme for someone born in England in the early fifties with a love of music and an admiration for all things American.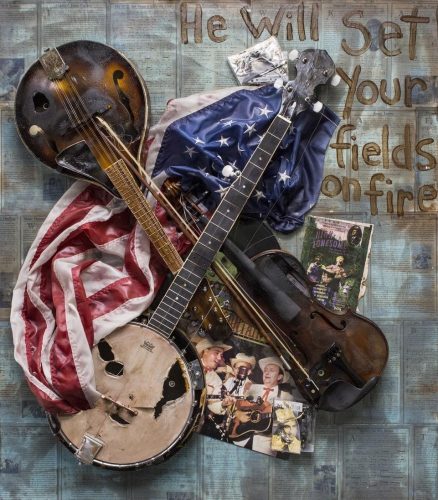 For Taupin, writing has always been a solitary process to which his partner adds the context. His art is created in a similarly solitary manner but this time it's the viewer who provides the context. Who can forget the image of "The Spirit of '76" by Archibald Willard, the drummer with the flag? Taupin's latest creations evoke similar patriotic emotions.
One of Taupin's recent creations is quite literally painted words – each of three frames contains single words spelling respectively red, white and blue. Patriotism at its most elegant.
Taupin's creations will continue to be shown at the Chase Contemporary through Nov. 10th and at The Bobby Hotel in Nashville through Dec. 31st.
This article was originally published by rock nyc